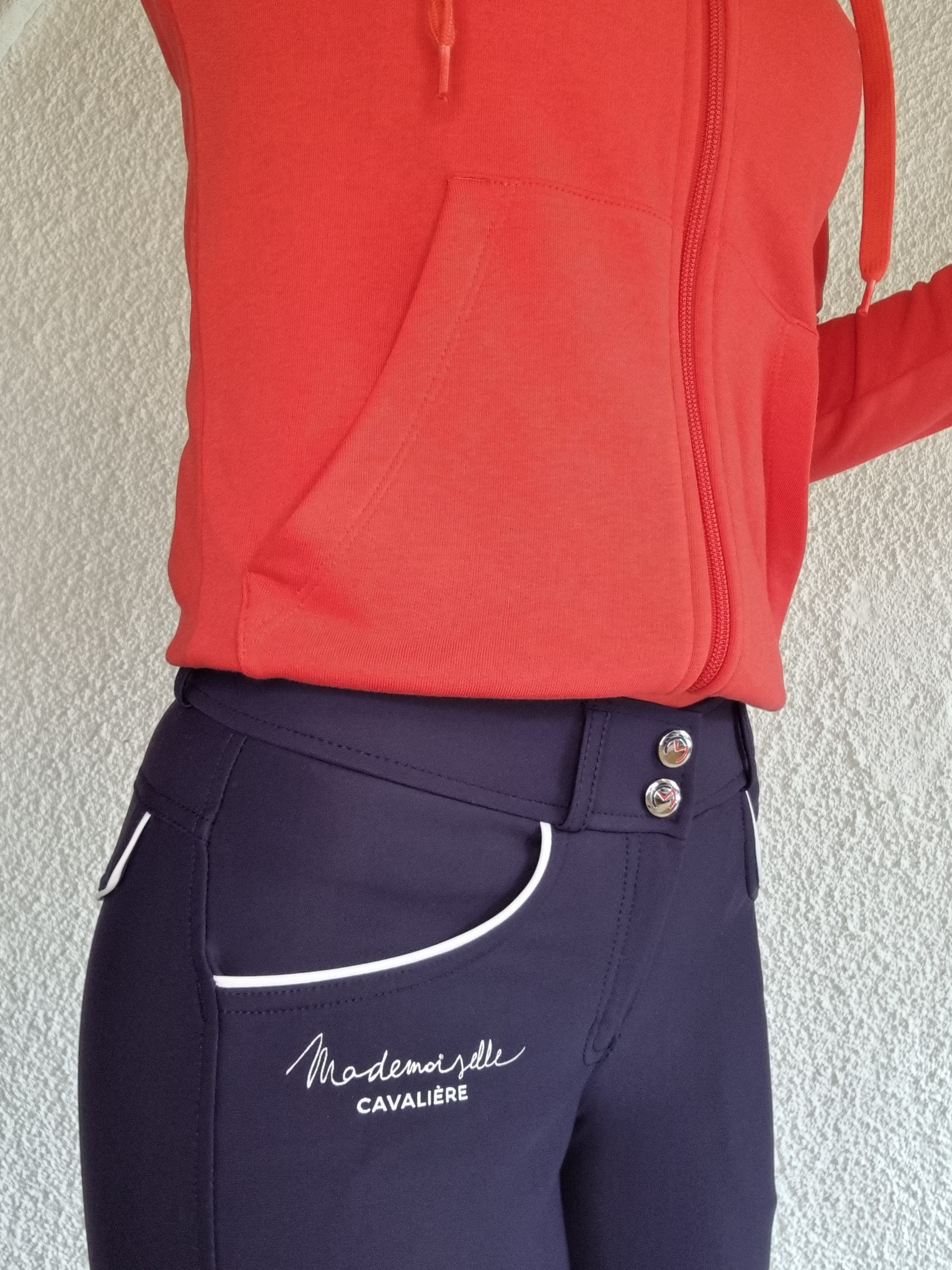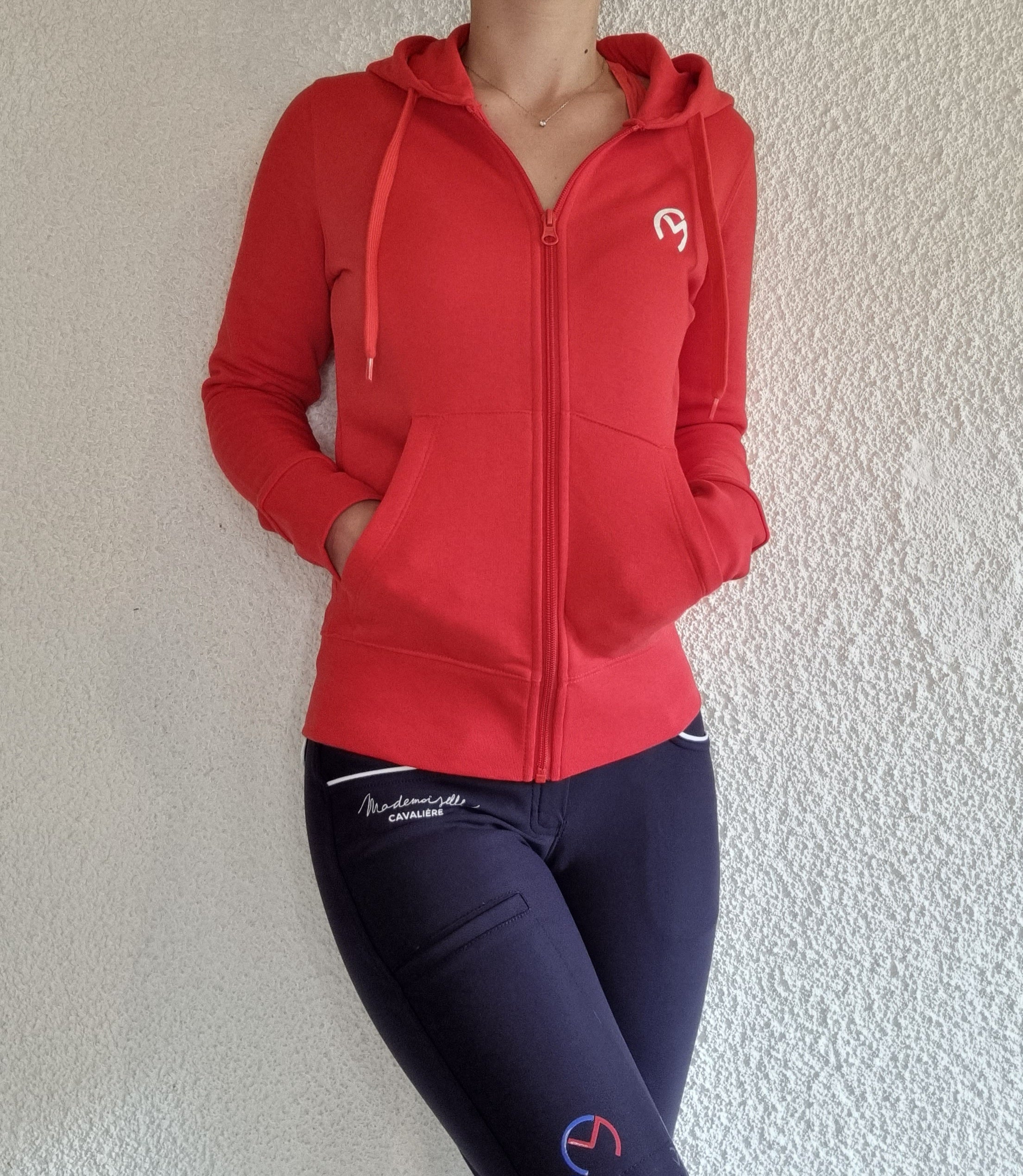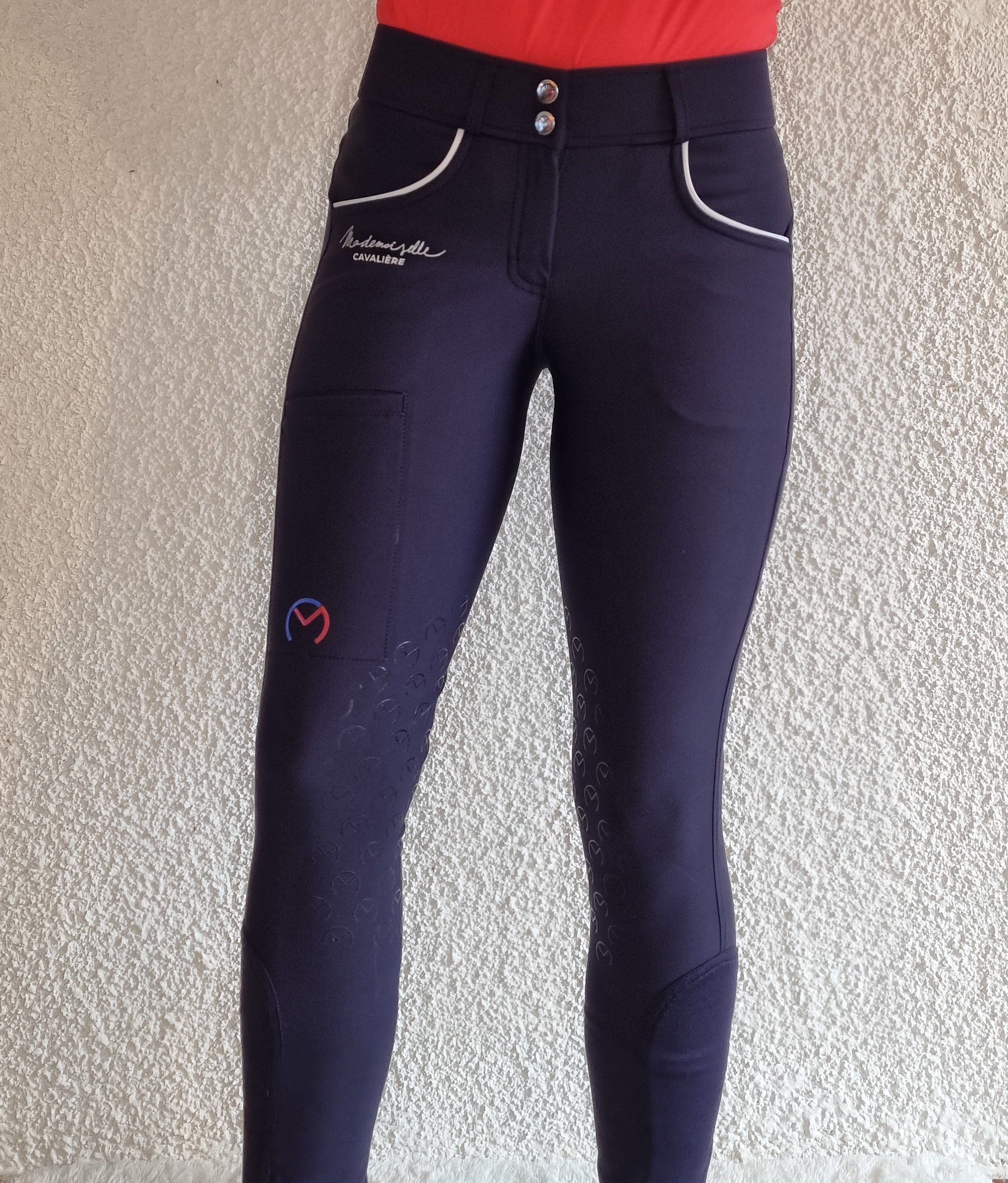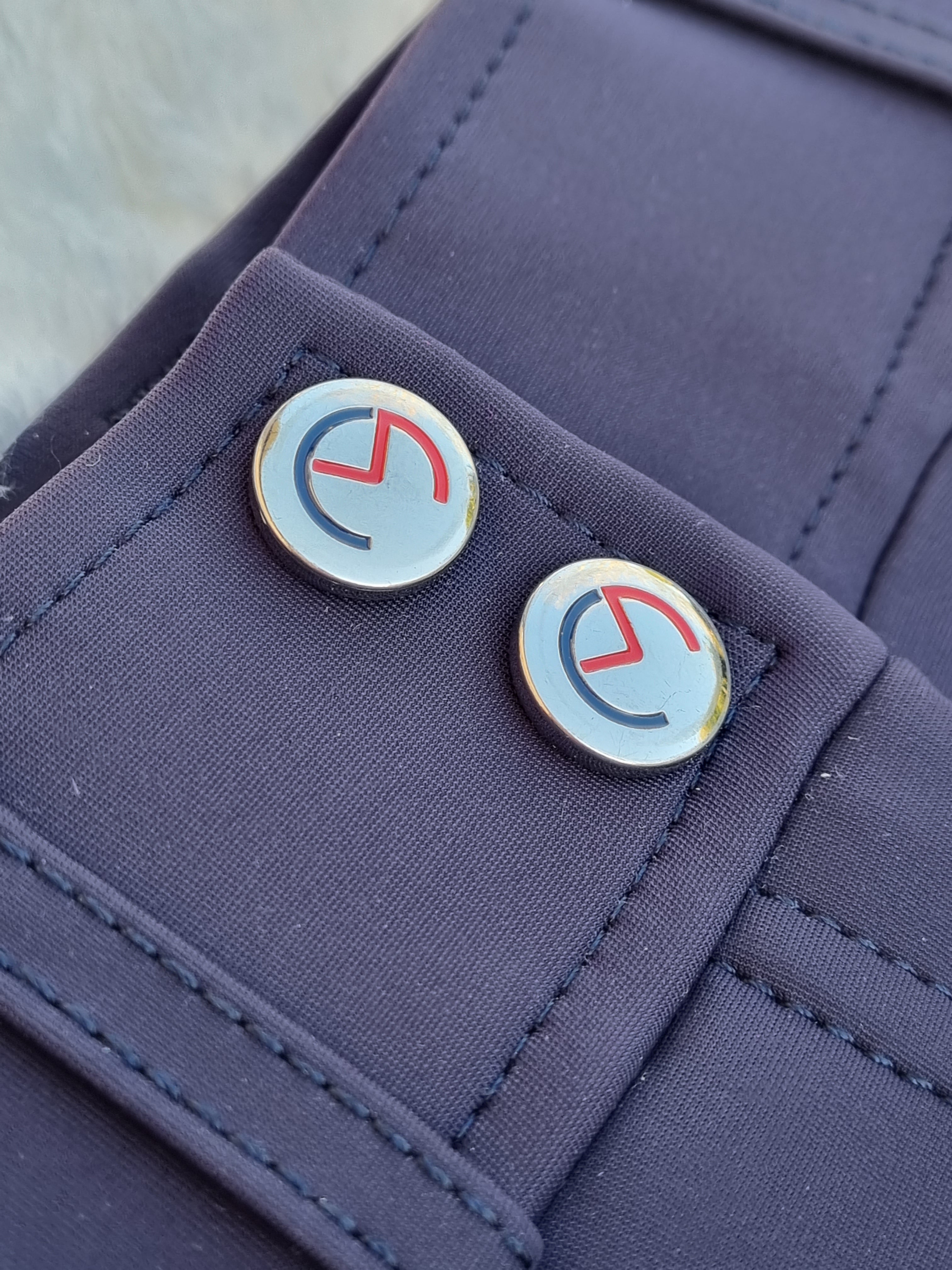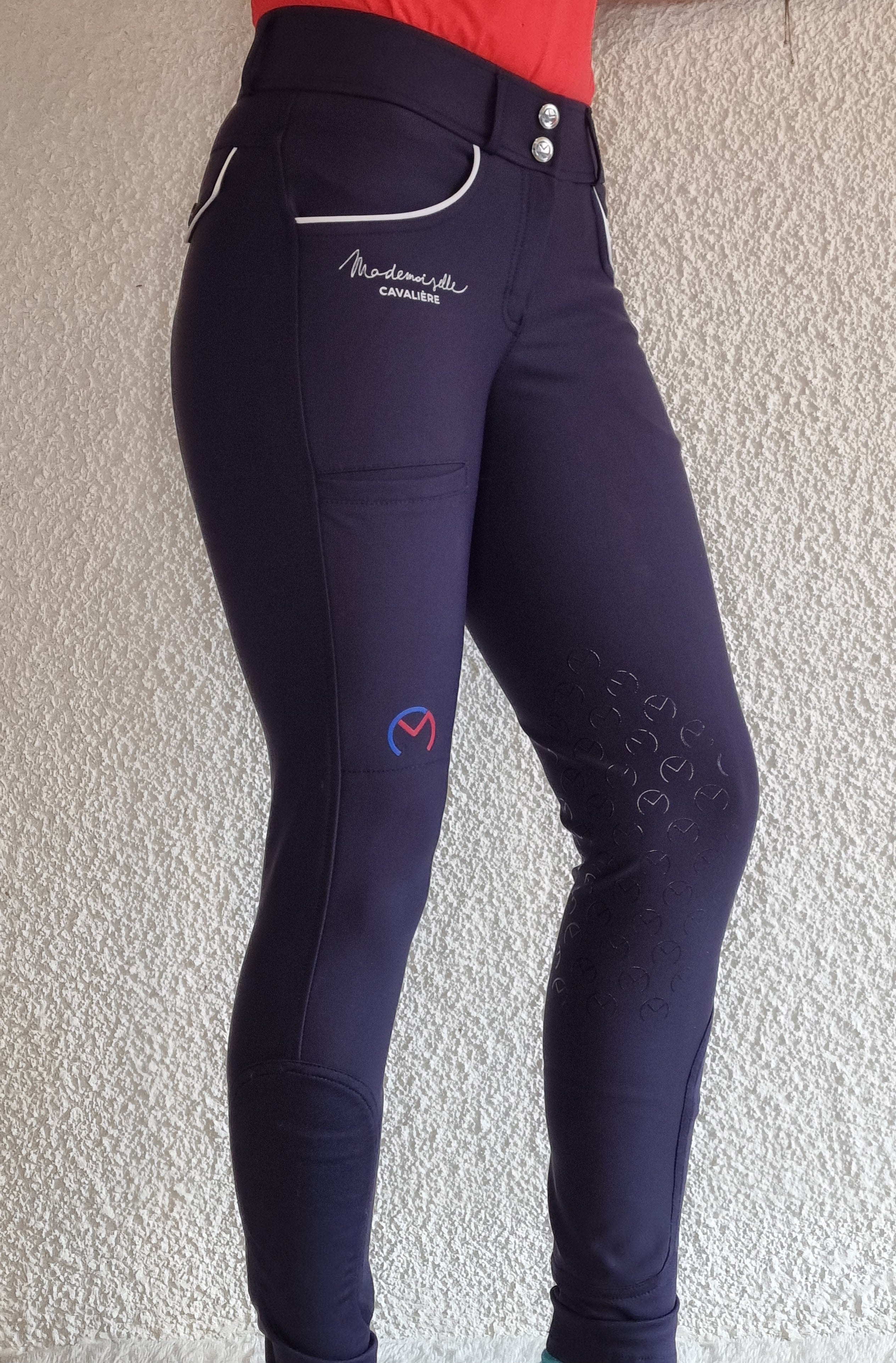 SO SPORT Navy/White TROUSERS
Benefit from free delivery from 60€ of purchase!
For each pair of pants purchased = 1 free belt!
---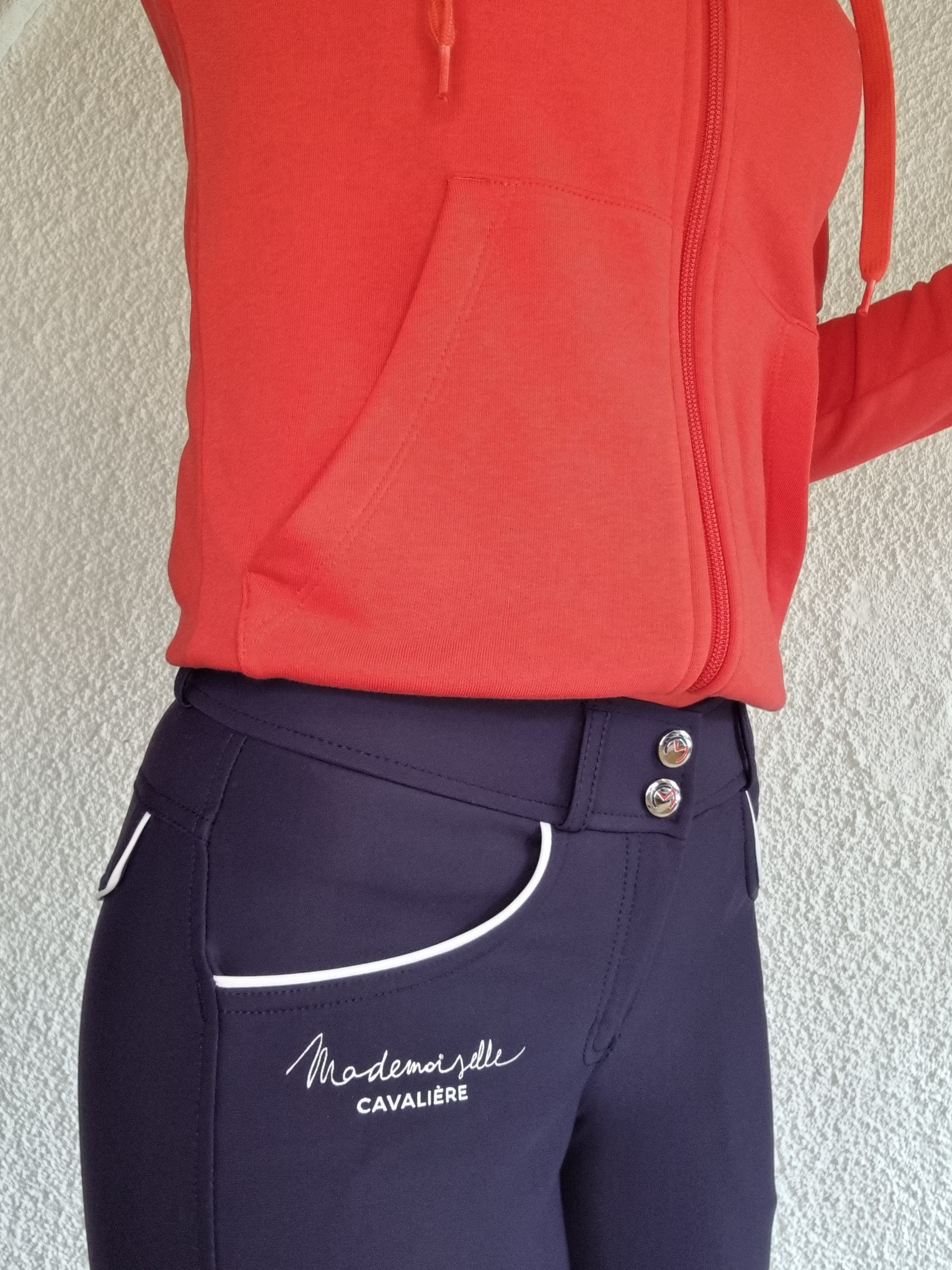 Description
NUGGET ALERT!!
The 2nd pants from MADEMOISELLE CAVALIÈRE are making their debut after a faultless run and on time!
Signed MADEMOISELLE CAVALIÈRE, it takes up the characteristics of the first pants in a new design in sporty Navy / White colors.

These pants were designed and designed for ambitious riders looking for the best level of comfort and technicality while remaining ultra stylish!

This Navy Blue with White details is just incredible!
Two elegant chrome buttons proudly bearing the laser-engraved MC logo, the dot on the "i" of "Mademoiselle" a pretty rhinestone: So Sport, So Girly

Equipped with two front pockets lined in white, a specific pocket on the thigh for the essential phone for greater comfort and accessibility for improvised selfies!
Find the logo in silicone grip at the knees to make it easier to hold the leg in place.
High waist pants
WATER-REPELLENT , water slides off without penetrating, rainy walks are yours, your legs will stay dry!!

ANTI-UV , designed to stop UV radiation.

BREATHABLE , fabric that wicks away moisture and therefore regulates the temperature inside.

MUSCLE SUPPORT FIBER , these innovative fibers provide specific muscle support by compressing certain parts of the body and designed to free up full-range movements. Your joints are both free and supported.

These pants will undoubtedly surprise with their innovative design and their technicality developed to continue to make you STARS.
Exterior composition: 82% Polyamide 18% Elastane
Interior composition: 90% Polyester 10% Elastane
Delivery with Colissimo

We offer you a reliable and fast delivery service thanks to Colissimo. Your order will be carefully prepared and shipped as quickly as possible to ensure safe reception.

Return policy

We want you to be completely satisfied with your purchase. If, for any reason, you are not completely satisfied, you have a legal period of 14 days to withdraw, exchange or request a refund.

Your satisfaction is our priority, and we are committed to doing everything to ensure that you are satisfied.

For more information on our returns policy or for any questions regarding delivery, please do not hesitate to contact us . We are here to help you.

Order with confidence from Mademoiselle Cavalière, your satisfaction is our priority!
Juste parfait
Cavalière d'endurance j'aime les leggings confortables et très prêt du corps. J'ai pris une taille 36 pour un poids de 56kg et une taille de 167cm. Il est parfait pour une personne qui n'aime pas se sentir serré. Pour moi je pense qu'une taille 34 aurai été mieux pour plus de maintien. Cet article m'a réconcilié avec les pantalons d'équitation, il est vraiment bien coupé et très confortable. Il n'y a rien à redire sur le tarif vu la qualité du produit.
Ravie
Que dire à part que ça a été une vraie belle surprise ! Pantalon acheté en 36, taille parfaite, tissu ultra agréable, bien taillé ! Commande reçue très rapidement !
Je vais en racheter ! 😅🥰