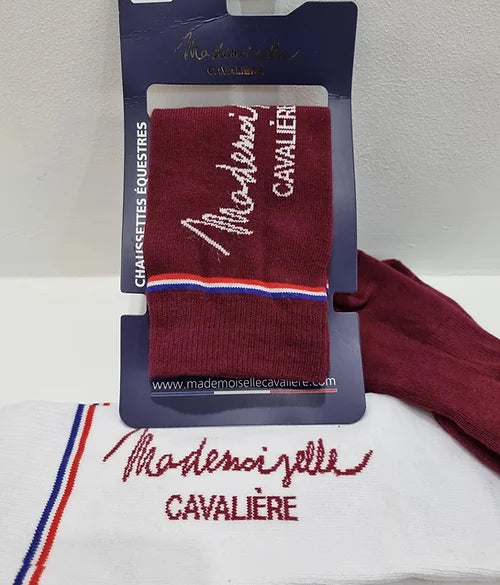 MC WINTER SOCKS BURGUNDY/WHITE
Benefit from free delivery from 50€ of purchase!
All our products are premium quality!
 For an elegant & sporty look worthy of a Mademoiselle Cavalière
PACK / 2 pairs of MC socks

Colors: BURGUNDY/WHITE & WHITE/BURGUNDY
+ Edging France
Elegant & Comfortable
AUTUMN WINTER
Designed by Mademoiselle Cavalière
Composition: - 79% Cotton - 18% Polyester - 3% Elastane
Delivery 3 working days
---
We offer you a reliable and fast delivery service thanks to Colissimo. Your order will be carefully prepared and shipped as quickly as possible to ensure safe reception.
We want you to be completely satisfied with your purchase. If, for any reason, you are not completely satisfied, you have a legal period of 14 days to withdraw, exchange or request a refund.

Your satisfaction is our priority, and we are committed to doing everything to ensure that you are satisfied.

For more information on our returns policy or for any questions regarding delivery, please do not hesitate to contact us . We are here to help you.

Order with confidence from Mademoiselle Cavalière, your satisfaction is our priority!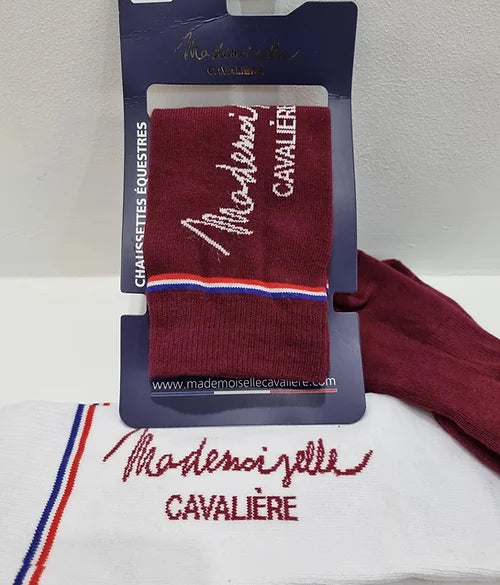 Moyen
Sur la description, je n'avais pas compris que les chaussettes étaient bicolores et que du coup il y en avait une blanche et une bordeaux… je n'aurais pas pris blanc… Le service retour à l'air compliqué … j'ai laissé tombé et les ai finalement gardé…
Pied confortable, chaud et moelleux. Partie mollet trop épaisse à mon goût et pas assez extensible ( pourtant j'ai un petit mollet) … du coup ça sert beaucoup et avec les plis du pantalon en dessous c'est pas hyper confort …
Bonjour,
Nous sommes désolés que nos chaussettes n'aient pas satisfait vos attentes. Pour la couleur blanche, elle est bien mise en avant sur la fiche produit (vous la voyez en photo). Quant à la partie épaisse sur le mollet, c'est volontaire de notre part, car ce sont des chaussettes d'hiver, et nous voulions qu'elles soient épaisses pour qu'elles tiennent chaud.
Pour ce qui est de l'extensibilité, nous allons voir si nous pouvons l'améliorer avec notre usine.
En ce qui concerne les retours, le processus est très simple. Il vous suffit de nous envoyer un petit mail, nous vous enverrons l'adresse de retour, et dès que nous recevons votre produit, nous vous enverrons la nouvelle taille.
Globalement, si vous avez la moindre question, n'hésitez pas à nous contacter. Nous essayons de répondre toujours en moins de 24h.
Belle journée !
Mademoiselle Cavalière